NBC was out in force in downtown Navasota November 10, 2018 at the second annual Reds, Wheats, & Blues festival. The weather smiled on us this year and turnout was much better. We made many new friends, and found many beer aficionados among the attendees.
This year, NBC produced four beers (pictured below). From left to right, we had a nice Franziskaner Hefeweizen (German Wheat Beer), a West Coast American Pale Ale, a German Schwarzbier, and our award-winning Pecan Porter. Specifics of the beers are at the end of this article.
Interest is building in NBC's vision for opening a first-class brewpub in Navasota. Keep an eye out for opportunities to help us make the vision a reality. In the meantime, head over to the website and join our mailing list to keep up-to-date on events and progress.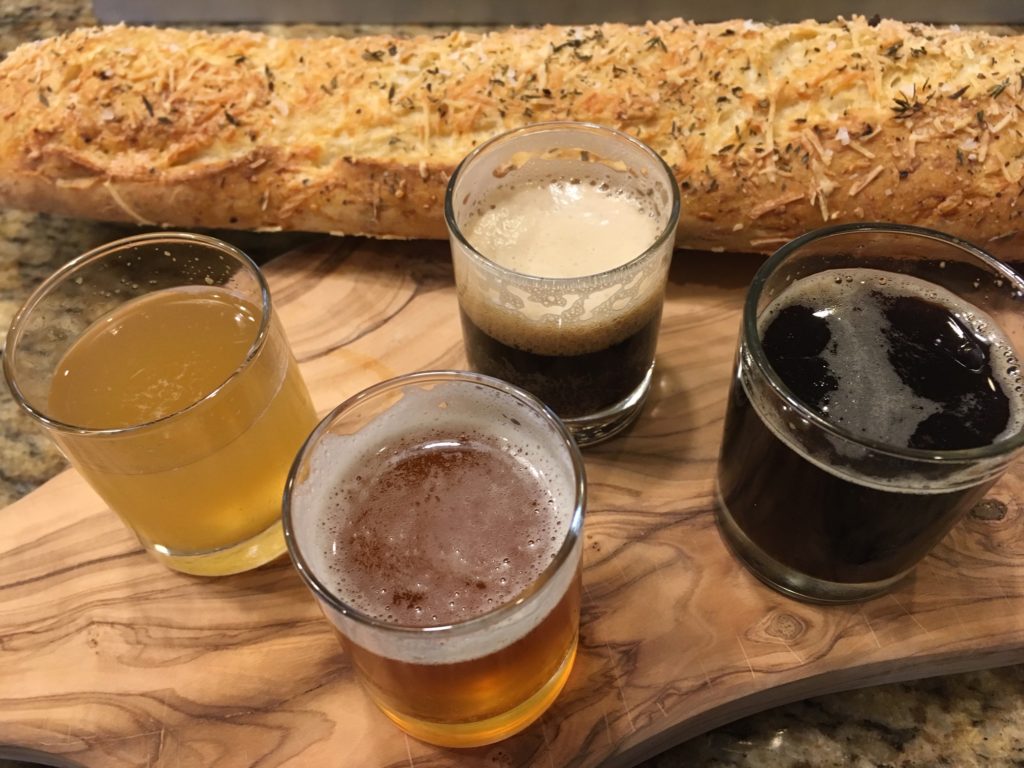 Franziskaner Hefeweizen – trans. Franciscan Cloudy Wheat – In German, "hefe" refers to the yeast which remains in suspension giving the German beer its cloudy appearance, and "weizen" denotes the use of wheat. This wheat beer is at its best when poured into a weizen vase, a large curvaceous glass which showcases the beer's beautiful glow and corrals its large, persistent foam cap given the style's characteristic effervescence. A German weissbier must showcase the weizen yeast's one-two punch of fruit and spice to be recognized as a German hefeweizen. The bright fruitiness of banana alongside the pungency of clove allow this beer to work well with a variety of lighter foods, such as salads, seafood and even a variety of egg dishes.

Franziskaner Hefes were first brewed by the Franciscan monks in Belgium, but co-opted by the Germans in the late 1400's. Ultimately, it was the "market penetration" of the Weiss biers that led to the Reinheitsgebot, introduced in 1516 by Duke Wilhelm IV of Bavaria. The decree allows for only hops, barley, and water to be used in the making of beer. Even with the decree, the Bavarians enjoyed their wheat beers and it has become a recognized German style.

OG 1.047 – 1.056, FG 1.008 – 1.016, ABV 4.9% – 5.6%, IBU 10 – 15, SRM 3 – 9, CO2 Volumes 2.5 – 3

West Coast American Pale Ale – American pale ale beer remains a staple of the American beer world because it continues to evolve. With each passing day, independent breweries across the country are reimagining the classic pale ale by experimenting with local ingredients to craft flavor profiles that push the boundaries of beer.

Our West Coast APA features distinct Cascade hopping with balanced maltiness from all-American grains, including Blacklands 2-row malt from Leander, TX.

OG 1.044 – 1.050, FG 1.008 – 1.014, ABV 4.4% – 5.4%, IBU 30 – 50, SRM 6 – 14, CO2 Volumes 2 – 2.5

German Schwarzbier – Sometimes called black lagers, they may remind some of German-style dunkels, but schwarzbiers are drier, darker and more roast-oriented.These very dark brown to black beers have a surprisingly pale-colored foam head (not excessively brown) with good cling quality. They have a mild roasted malt character without the associated bitterness. Malt flavor and aroma is at low to medium levels of sweetness.

OG 1.044 – 1.052, FG 1.010 – 1.016, ABV 3.8% – 4.9%, IBU 22 – 30, SRM 25 – 30, CO2 Volumes 2 – 2.5
NBC Pecan Porter – One of NBC's signature beers is our pecan porter. Made with 2 pounds of freshly crushed Texas pecans for every 5 gallons of finish beer, our pecan porter is reminiscent of 512 Brewery's version but with more roasted, coffee, and chocolate notes. Decoction (i.e., boiling a portion of the mash) gives our beer its award-winning profile.
Considered stylistically as a robust porter, ours features more bitter and roasted malt flavor than a brown porter, but not quite as much as a stout. Robust porters have a roast malt flavor, often reminiscent of cocoa, but no roast barley flavor. Their caramel and malty sweetness is in
harmony with the sharp bitterness of black malt. Hop bitterness is evident. With U.S. craft brewers doing so much experimentation in beer styles and ingredients, the lines between certain stouts and porters are often blurred.

OG 1.045 – 1.060, FG 1.008 – 1.016, ABV 5.1% – 6.6%, IBU 25 – 40, SRM 30+ , CO2 Volumes 2 – 2.5