NBC seeks to reflect a true American craft-brewing tradition in its beers. We use ingredients that are locally sourced (where available) and styles that are reflective of community tastes. Here is a list of our signature beers.
Pecan Porter (Style: American Porter, 20A)
ABV: 6.2%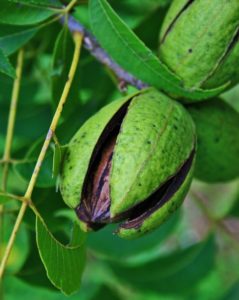 Color: 30 SRM
Bitterness: 40.5 IBU
Made with 2 pounds of freshly crushed Texas pecans for every 5 gallons of finished beer, our pecan porter is reminiscent of 512 Brewery's version but with more roasted, coffee, and chocolate notes. Decoction (i.e., boiling a portion of the mash) gives our beer its award-winning profile.
Considered stylistically as a robust porter, our's features more bitter and roasted malt flavor than a brown porter, but not quite as much as a stout. Robust porters have a roast malt flavor, often reminiscent of cocoa, but no roast barley flavor. Their caramel and malty sweetness is in harmony with the sharp bitterness of black malt. Hop bitterness is evident.
Mudcat Brown Ale (Style: American Brown, 19C)
ABV: 5.6%
Color: 21 SRM
Bitterness: 26.8 IBU
Our brown ale uses Blacklands Pale Moon 2-Row Malt for 90% of the grain bill. Blacklands is a malting house in Central Texas, and we are proud to use their malts in many of our beers.
Mudcat Brown also contains crystal and chocolate malts for color and malt character of medium intensity in both flavor and aroma.  American Cascade hops are used for both bittering and aroma, used in additions to create a low to medium hop flavor and aroma and medium to high hop bitterness. The history of this style dates back to U.S. home-brewers who were inspired by English-style brown ales and porters. It sits in flavor between those British styles and is more bitter than both.
Rattler IPA (Style: American IPA, 21A)
ABV: 6.5%
Color: 8 SRM
Bitterness: 60 IBU
A beer with a bite, also utilizing Blacklands Pale Moon 2-Row Malt, this hoppy beer is characterized by floral, fruity, citrus-like, piney,resinous American-variety hop character. This beer is all hop flavor, aroma and bitterness. If you like hops, this is the beer for you.
LaSalle's Lager (Style: American Lager, 1B)
ABV: 4.5%
Color: 3 SRM
Bitterness: 12 IBU
A clean American lager with crisp maltiness, and a noble-hop finish, this easy-drinking beer uses 100% Blacklands White Horn Pilsner Malt and a multi-step mash process. This beer is clean and crisp with a light color. A great pairing with wood-fired pizza on a hot day.
In 1687, LaSalle, the famous French explorer was treacherously murdered by his own men near Navasota, Texas. This beer honors the man and the spirit of adventure that describes many of our citizens.