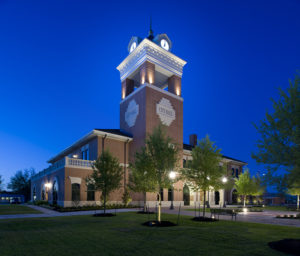 Has anyone noticed that Navasota seems to be on the edge of something good? I took my recycling to our single-stream facility last week. I was greeted by Enrique, who is always smiling and happy to see me. The fact that we have a single-stream recycling facility is a great feature of our little town.
After taking the recycling, I stopped by Prosperity Bank's lobby to make a deposit. Does anyone else think that building is beautiful? Then I walked across the street to WC Mercantile to pickup a #2 circular bamboo needle for my knitting, and chatted with Stephanie for a few minutes. After that, I went next door (after dumping my home-brewed coffee in the gutter) to the Classic Rock Coffee Company where I got a refill of "Breakfast in America" in my Yeti tumbler and a "War Pig" breakfast sandwich – delish'. Yes, downtown is looking pretty sharp.
But there's more to it than that. I happened to peruse the Grimes County Appraisal District's report for 2016. Did you know that our property values have increased by almost $125M this year, and more importantly, new construction has almost doubled over the 2015 valuations to $79M? College Station continues to march south toward our county line, and although I think it will still be some years before Navasota becomes a suburb of CS, things seem to be picking up. People are taking more pride in our community. All of this under less than stellar economic conditions over the last several years. Now we have an ostensibly Republican president about to take office with a Republican Congress and strong Republican leadership in our state. Our leaders are claiming to grow our economy and focus on America first. I, for one, think we need a little of that.  I'm beginning to feel optimistic.